Young Equestrians
Young Equestrians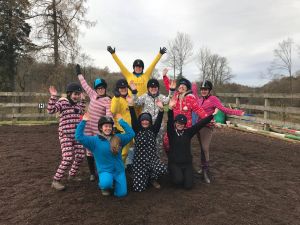 Aged 13-18?
Have an interest in horses and riding?
Want to make new friends and try new things?
Our Young Equestrian's Club is for you!
We are a friendly bunch of horse-mad teens (aged 13-18) who meet twice a month. We ride on the last Sunday of every month, and have a social meet in between.
Young Equestrians is all about trying new things, and we enjoy doing jumping, hacking out, mounted games, drill rides and horse agility to name a few!
Our socials have included all sorts of activities:
BBQ's and outdoor swimming
Archery
Climbing
Cinema
Bowling
And many more!
Find out more about Young Equestrians
Interested in volunteering? Take a look at the Young Equestrian Leaders Award