Lake District Horse Riding Holidays Ltd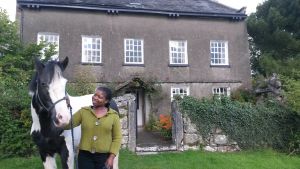 Lake District Horse Riding Holidays Ltd provides Horse Riding Breaks all year round for families adults and children from the age of 3yrs from complete beginners to advanced riders.
We can offer you quality Horse riding instruction as well as the most fantastic Trekking and Hacking in and around Witherslack Hall Estate situated in the National Park, South Lakeland
Choose from one of our Horse Riding package holidays or we can tailor make your holiday to suit you.
Bring along your partner and the rest of the family and the Dog! with plenty of other activities to enjoy during your stay like fishing in our lake, cycling, and walking you can be sure there is an activity for everyone. You can choose to take a day away from the Farm and visit Bowness on Windermere, Sizegh Castle, Holker Hall, Levens Hall which are all within a 20min drive from the Farm.
Choose from a range of activities:
Riding Lessons
Trail Rides
Hacking & Trekking
Intense learn to ride package
Kids Pony Camps
Weekend breaks
Children's pony Day's and Half day
Electric Mountain bicycle Hire
Fishing
Advice on local attractions and secret treasures
Accommodation
Traditional Country Farmhouse Bed and Breakfast
The accommodation will be at the onsite Farmhouse Bed and Breakfast. You will be thrilled with just how much 17th Century character a Farmhouse can hold with roaring log fires, ancient oak beams, wonderful views, and the warm atmosphere of a house that has cared for hundreds of people over the years; here, you can ride, relax, read, dine, and enjoy at your own leisurely pace.
With bed and breakfast all year round, individuals, families, and groups have complete tranquillity, lovely facilities, excellent food, and great hospitality.
Accommodation at the Farm House comprises of 5 rooms, 3 of which are twin rooms and 2 double rooms with 2 shared bathrooms.
The Bunk Barn
The Bunkhouse dates back to the 17th Century before the property was remodeled into a Victorian Farmhouse in 1852. It was originally the grain store for the farm and has been recently converted into a Luxury Bunkhouse. It still has some of the original oak beams, its open plan living, kitchen and dining area which is ideal for family and friends get togethers as well as groups.
There are 2 bedrooms with 3 sets of purpose built bunk beds in each to accommodate 12 people. Each bed has its own USB charger point which is ideal for reading or keeping your phone or tablet charged.
Package Holidays
Give us your preferred holiday dates and the type of riding you would like to do and we will do the rest!
Hacking from 1hr to Full Day Rides
Lessons from 30min to 1hr
Own a Pony 1/2 and Full days (subject to availability)
 5 Day Kids Camps- Mon-Fri
Stable Management Sessions
Bed & Breakfast Accommodation
Luxury Bunk Barn, Self Catering Accommodation
Lunches & Evening Meals
Trail Rides
Witherslack Estate itself has over 2500 acres of woodland tracks, farm land and quiet country lanes in which to explore on our regular day rides.  If you fancy riding further afield and exploring the Lake District from horseback Witherslack Hall Equestrian Centre is ideally situated in the heart of the South Lakes to do just that!
Trail rides from 2-6 Days
B&B Accommodation shared or single occupancy
Lunches and Evening Meals
Please see our Calendar of events for organised Trail Rides, if you don't see any dates that suit you, please complete the Riding Holiday Enquiry Form.
Beginners 'Learn to Ride' Intensive 1 week break
The skills you will learn with beginner horse riding lessons are the fundamentals of the sport. Whether you continue with your riding or stop at this level, the skills you learn are vital.
You will master the basic principles of riding including: mounting, dismounting, correct riding position, holding the reins, halt, walk, basic turns, rising & sitting trot.  At the end of the week you will be able to put all your skills to the test with a 90 min Trek on the Witherslack Estate.
Your stable management sessions will be aimed at getting you confident around your horse, grooming and learning how to prepare him for riding as well as learning about the basic care for your horse.
This Package includes:
Riding Lessons
Stable Management Lessons
90min Trek On the Witherslack Estate
Bed & Breakfast Accommodation
Station transfers from Grange over Sands Train Station
Single Occupancy or sharing
Meals can be added to your stay ~We have a varied menu with Dairy Free, Gluten Free, Vegan and Vegetarian options. Don't forget to bring a bottle of your choice!
Children's Residential Riding Camps
£595
On this unaccompanied children's horse riding holiday accommodation is in 'The Bunk Barn' on site next to the stables. Children are supervised by adult members of staff who have completed Enhanced DBS checks training in first aid and safeguarding.
All meals are provided throughout the camp by Louise 'she likes to keep them well fed' she is very adaptable when it comes to dealing with dietary requirements, tastes and dislikes!
There are plenty of activities for the children to enjoy other than riding and stable management, although riding is obviously the best! Like rounders, film night, treasure hunts and games in the arena.
Children from beginners to advanced are welcome on our camps, riders are put into small but similar ability groups.
All our tuition is delivered by experienced instructors.
Typical Day Itinery
7.00 am Wake up call
7.30 am Breakfast
8.00 am Catch in and prepare your ponies for morning lessons
9.00 am First lessons
11.00 am Stable management
12.00 pm Lunch
1.00 pm Prepare your ponies for afternoon hacks
1.30 pm Hack out
3.00 pm Tack clean, turn out ponies and skip out tidy and sweep yard
4.00 pm Stable management
5.30 pm Dinner
6.30 pm Evening activities start
8.00pm Showers
8.30pm Hot chocolate and cookies, ready for bed
9.00pm Lights out
Arrivals and Departures
Arrival between 12-1pm on Monday (Lunch Provided)
Departures between 12-1pm on Friday (Lunch Provided)
* If you need to arrive or depart outside of these times, please inform us and we will do our best to accommodate your needs.
Take a look at our Events