Lessons & Tuition
Tuition is available for private and group lessons for riders from beginners to advanced.
Our experienced staff,  Horses and Ponies can cater for riders who would like to specialise in show jumping, dressage, showing and Horseback Archery.
We offer tuition for riders from age three and have a weight limit of 15 stone.
What ever Level rider you are we have a horse or pony suitable for you!
We offer a range of courses/sessions to suit your needs including:
Group and individual sessions

Flat work, Dressage and Showing

Show jumping and Grid work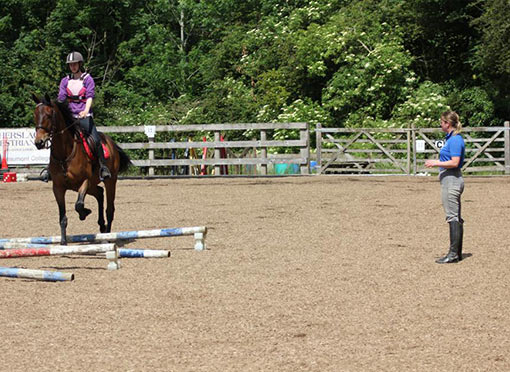 Riding Standards
We offer a range of sessions to suit your needs
Lesson Type
Info
Private

(1 rider)

Semi Private

(2-3 Riders)

Group

(4-6 Riders)

Tiny tots Lead Rein
(10min groom & 20min Ride)
Beginners 3-6yrs

Weekdays only before 4pm

£25
£20
£20
30 min Lead rein
(children)
Complete Beginners
£25
£20
£20
30 min Lunge Lesson
(Fine tune your position)
Beginner/Novice/Intermediate/Advanced
(Private Only)
Children: £30
Adults: £35
–
–
30 min Lesson
Beginner/Novice/Intermediate/Advanced
Children: £30
Adults: £35
Children: £25
Adults: £30
–
45 min Lesson
Beginner/Novice/Intermediate/Advanced
Children: £35
Adults: £40
Children: £30
Adults: £35
–
1 hour Lesson
Beginner/Novice/Intermediate/Advanced
Children: £40
Adults: £45
Children: £35
Adults: £40
Children: £25
Adults: £30
Pony Club
Mini/Bronze/Silver/Gold
–
–
£30
Young Equestrians
13yrs +
–
–
£25
Holiday Club Half Day
Children from 6yrs-18yrs
–
–
£25
Holiday club Full Day
Children from 6yrs-18yrs
–
–
£50
Afterschool Club
Children from 6yrs -18yrs
–
–
£12
Pony Parties
Minimum of 8 Children
2hrs games & Grooming
–
–
£30
Stable Management
1 hour Session
Children: £20
Adults: £25
Children: £15
Adults: £20
Children: £10
Adults: £15
Take a look at our events
Join Our Mailing List And Receive Updates & Offers
Start your journey with us today